Welcome To

Go! Go! Curry! America Franchising

Thank you for your interest in becoming a Go! Go! Curry! franchisee. Since 2007 we have been serving our Japanese Curry to our hungry customers, and are proud to be at the forefront of the growing Japanese Curry craze. Over the last decade, Go Go Curry has established itself as the industry leader in this emerging culinary market which brings a unique style and flavor to the fast casual industry. Made curry sauce with the freshest ingredients and served over Japanese premium rice, topped a Choice of Pork, Chicken, Fish or Tofu Katsu made to order, our food brings the flavors of this traditional Japanese cuisine to the modern consumer.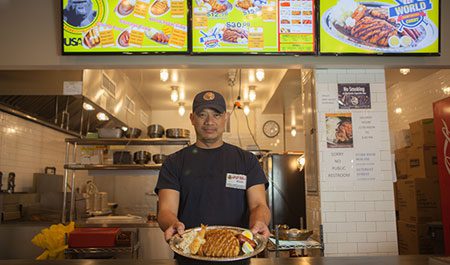 Go! Go! Curry! originated in Kanazawa-city, Ishikawa, so it is also known as a Kanazawa curry. After growing to more than 75 locations across Japan, we decided it was time to share the love and happiness that comes from eating our Japanese comfort food with the world, beginning with arguably the greatest culinary city in the world, New York City! Since then, we've opened up six locations in New York City (and one in Cambridge, MA!) and over that time have learned a lot from The Big Apple while still keeping the flavors and traditions of our Japanese roots. From the beginning it has been our goal to create and develop a chain of restaurants that could be efficient and scalable and ultimately spread across the country to meet the increasing consumer demand for Asian-inspired food in general, specifically for Japanese Curry.